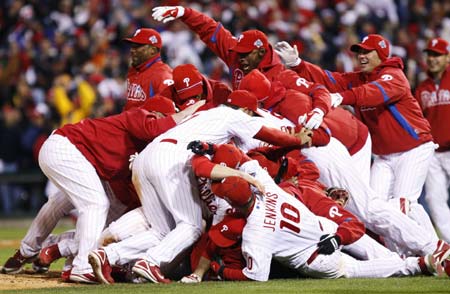 Well it has been pretty quiet lately not a hole lot of riding.
Gunnar
and I went on a short little cross training ride. I borrowed a old road bike with cross tires on to ride. It is a cool bike but if I turn to hard with my pedal forward my foot hits the tire so got to watch out for that. Today I have been watching the P
hillies
parade and am really really excited we just won the World Series. A few days ago it snowed, Yes snowed! I am an avid skier so I was hoping that when I got home I could ski and ride my
dirt bike
in the snow. To my
disbelief
not 1 flake of snow was on my driveway just rain. Up in the Poconos some areas got a foot!! One area tonight is setting up some rails to ski on. I was going to go but I figure its not
Worth
the drive. It sounds like
tomorrow
I'm
going up to a cross race a F
airhill
. My first race and I think it is going to be fun. I have been riding around my house practicing barriers and sprints on the new bike. It should be fun. Did I say I am excited the P
hillies
won its been 28 years!